Chandra Bornstein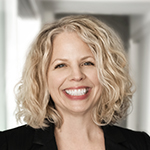 Chandra focuses on Leadership Development, Coaching and Facilitation. She weaves her talent management, leadership experience and business background into strategies that help individuals and organizations succeed. Clients work with Chandra in a variety of areas including communication skills, team development, culture creation and emerging leader growth.  She works with clients to increase their emotional and social intelligence, develop additional capacity for navigating complexity, build their leadership skills, and stay connected to what matters most to them.
At Coppei Collective: Chandra supports employees and leaders with their development goals.  She helps clients create strategies for short and long-term success by bringing forward their value in ways that help them stay engaged and have meaningful impact. 
Experience: Chandra is known for her ability to maximize people strategies and business results. Her style is influenced by years of building, managing and leading teams in the digital advertising, ad technology and start-up space. Her 15+ years of leadership experience helps her understand first-hand the challenges and opportunities leaders go through. Chandra's natural curiosity and passion for helping individuals and organizations succeed led her to further focus on talent and organizational development. Her graduate work in human behavior, systems thinking, leadership development and cultural anthropology gives her approach a holistic view with an eye to creatively supporting results-based change. 
Education and Training: Chandra has a master's degree in Applied Behavioral Science from The Leadership Institute of Seattle at Bastyr University. She holds a Co-Active Coaching certification from The Coaches Training Institute.
Trainings and Workshops Conducted:
• Leadership development & Coaching
• Career coaching
• Organizational Development
• Small group facilitation
• Change management
• Developing new managers & emerging leaders
Leadership today:  Leadership today means being thoughtful, intentional and resilient. Thoughtful in word, action and self-awareness. Intentional about being curious, building trust and fostering collaborative relationships. Resilient in how you respond to change so that it serves as a learning and growth opportunity.
What clients say about Chandra: 
• I learned the importance of being mindful, intentional and proactive in my career planning; the difference between what I want to do vs. whom I want to be.
• The most value I got from the coaching is the safe, open and understanding relationship Chandra built at the very beginning. She guided me to have my true value at work.
• She is incredibly effective in adapting her coaching style to the situation and providing the right guidance to help me, help myself. 
Important qualities Chandra brings to her clients:  Chandra brings 20 years of organizational development and leadership experience to her work. She combines creativity, honesty and humor to help clients shift their behavior.   She is passionate about developing strong, resilient people leaders in a world filled with ever shifting priorities. Her systemic view helps clients see choices from different perspectives in ways that help them move towards success. 
When Not Working: You will find Chandra laughing with friends and family, traveling, deciding what she wants to learn next (currently neuroscience of change), reading and adventuring around.