Lynn Zhang
张琳
CPCC - Certified Professional CO-Active Coach
GRP - Global Remuneration Professional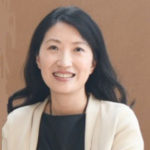 Lynn Zhang specializes in Executive and Career Coaching, Leadership Development, Communication, and Human Resource Strategy.
She works with individual leaders at all management levels and is especially skilled in helping leaders understand the benefit of building leadership competencies within the organization, understanding team integration, and the creation of solid succession planning methodology to create strategic leaders within the company. Lynn has shown strong results with clients for personal leadership, team performance optimization, communication, strategy and accountability.
At Coppei Collective: Lynn is a leadership coach working with new employees, managers and emerging leaders to understand what they value, their key motivators and how to lead with their authentic style. 
Her passion is working with leaders to enhance their ability to effectively lead, compete in culturally rich environments.
Experience: Lynn's professional career spans over twenty years in human resource leadership. She is known for her demonstrated leadership abilities and her commitment to develop leadership in others to enhance organization capability.  She works with companies that want to make a difference for themselves and their teams by developing and advancing their employees while continuing to over achieve business objectives. 
Her track record for successfully growing and developing business relationships with executives crosses a multitude of companies and through her corporate work experience for companies which include Hasbro, Richemont, Credit Suisse, Philips. She has proven to be a positive change agent in dealing with both matrix and hierarchical organizations. 
Education and Training: Lynn holds a master's degree of Business Administration. She holds PCC accreditation from the International Coaching Federation, along with Co-Active Coaching Certification from CTI. 
 Trainings and Workshops Conducted:
• Mentor as a Coach
• New leader Assimilation Workshops
• Leadership Development
• HR for Non-HR workshop
• Pay decisions
• Promotion guidelines
• Marginal management
• Talent Development
• High performer calibration
Leadership today: Requires vision to execution to contribution.
What clients say about Lynn:
• Honestly, I was a bit skeptical about the program but though speaking with Lynn, that totally changed.
• She asked powerful question which made me realize few points I need to work on to ramp up quickly.
• Lynn is definitely a good listener with empathy. She was very rich experience and can deeply understand my concerns and questions. 
Important qualities Lynn brings to her clients: Lynn has twenty plus years corporate leadership experience and has a highly developed skill set which includes leadership development and increasing communication and performance among teams. She combines her business and leadership experience with coaching expertise to help increase the effectiveness of leaders and organizations. Results achieved by her clients include the growth of high-potential leaders, successful on-boarding of new leaders, retention of key talent, increased productivity and effectiveness, leaders' promotions and stronger teamwork.  
When not working: Lynn is Yoga Enthusiasts who keeps a 15-year record and ardent gardener (always about growth and potential...even in plants). Lynn conducts pro-bono life coaching for young talents, including students and recent graduates from Tsinghua University, Tongji University and Beijing University, as well as individuals who present on the TED platform.