Claudia Sanabria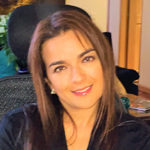 Claudia Sanabria is passionate about helping others find and follow their own joy in life. She is dedicated to helping others encounter their true passions, pursue their dreams, experience transformational process, enjoy their life journey, and embrace self-acceptance.
At Coppei Collective: Claudia has worked as an executive coach supporting the New Hire Coaching Programs at Microsoft during the onboarding process since 2010.
Experience: In addition to her work at Coppei, Claudia is the founder of Alive Coaching and Consulting a company whose mission is to empower people to embrace transformation and growth. Alive Coaching and Consulting helps individuals achieve clarity and insight into their unique purpose, and works coactively with them to create a plan to achieve that purpose while living a fulfilled and balanced life.
In addition, Claudia worked at Microsoft in marketing where her team drove and delivered the first on-line education offering and implemented the first blended strategy for online educational materials with 3rd party companies. She managed the relationship with key vendors and ensured the operational processes, customer experiences and cost improvements related to learning products.
Claudia was born in Bogota, Colombia. In Colombia, Claudia worked as the Marketing and Sales Director for a startup company called High Systems Group, a company that focused on building online applications, training and certification for Microsoft products, and Helpdesk consulting. This journey led her to the Seattle area seeking greater opportunities. Claudia learned the value of following her passion and growing from the lessons that life provides every step of the way. She also learned the joy entrepreneurship.
Education and Training: Claudia is a graduate of Universidad de La Sabana from Bogotá, Colombia with a Bachelor's degree in Business and Marketing, and she holds a certificate in E-Commerce and Marketing from the University of Washington. Claudia completed training with the Coaches Training Institute (CTI) and holds her certification as a Professional Certified Coach by the International Coach Federation (ICF) and is certified by Fierce Inc on the leadership training of Fierce Conversations ™.
When not working: Giving back to the community is a core value for Claudia. She joined Washington Community Alliance for Self Help (CASH), a nonprofit organization that transform lives and communities by creating a pathway out of poverty using small loans and business training to help individuals and businesses build credit, knowledge and confidence.  Claudia served as Business Coach and trainer for the Hispanic community in Seattle. Following that path, Claudia co-founded Alas Mujeres, a program that empowers vulnerable girls to discover their potential and live their dreams. Claudia values diversity, respect for others, and social justice.