Mary Beth Maines CPCC, PCC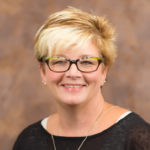 Mary Beth is an executive and leadership coach working with leaders to help them achieve their personal and professional goals.  She enjoys working with leaders to make them better for the customers and employees they serve.  Whether helping them become more skilled and confident leaders, scale into new roles or job opportunities, increase effectiveness and impact, or be a skilled advisor on leadership brand, executive presence, managing others and creating an engaging culture.
At Coppei Collective:  Mary Beth is a leadership coach working with all levels and senior leaders around personal brand, values-driven leadership, presentation skills, executive presence, managing change and transition, onboarding and scaling up into increasingly complex roles and leadership impact.
Experience:  Mary Beth has experience working with companies from small to large and has coached in over 15 countries.  She brings over 15 years of experience in Human Resources working as a Director/Partner in HR at Microsoft and as Acting Chief HR Officer at Snowflake Computing; one of the fastest growing SaaS companies.  In addition, she's worked for over 7 years as a Vice President at SNP Communications where she coached executives and leaders on executive presence, employee communications and managing in fast-growth environments.
Education and Training:  Mary Beth is a graduate of the University of Illinois in Broadcast Journalism and has done graduate level work in organizational design and HR at the University of Michigan.  She is a certified coach (CPCC and PCC) through the Coaches Training Institute (CTI) and the International Coaches Federation (ICF).  She's certified in Insights Discovery, Hogan Assessments, and Hogan 360.    She's coached at Microsoft, Zillow, Expedia, Google, Dropbox, Snowflake Computing, Vulcan, Weyerhaeuser, Tommy Bahama, GoDaddy, Skytap, T-Mobile, Citibank, Unico Properties, Winshuttle, Intellectual Ventures, Philips Healthcare, Fred Hutchinson Cancer Research Center, Caradigm and SAP.
Trainings and Workshops Conducted:
• Presenting with Polish: Executive Presence and Presentation Skills
• Delivering Hard Feedback
• Management Essentials
• Speak Up and Stand Out:  Skills for Owning Your Brand and Holding Your Own
• Managing Change
• Insights Discovery 
Leadership Today:  Management is a job; leadership is a state of being. Titles don't make leaders.  Actions do.   Are you showing up the want you want to be?
What clients say about Mary Beth:
• "Mary Beth helped me get ready to present at a significant event.  It went very well and she really helped me get ready.  From my content, to my slides, to my physical skills and helping me know how to prep.  I'm now doing an even bigger event and feel very confident.  Thank you!"
• "I cannot thank you enough for your coaching and guidance this first year.  I can't imagine having gone through this crazy first year without you.  I looked forward to our coaching calls and left them feeling energized and confident heading back into work."
• "I truly appreciate all your time and guidance and personal approach to our coaching sessions. Thank you so much again for setting me for success in my first steps as FTE! I still feel that there is a lot more that I can learn from you, so I will be staying in touch".
• "Great coach and thought partner.  One of the best investments I've made in my career."
Important qualities Mary Beth brings to her clients:  Candor, curiosity, tough love, accountability and a fierce desire for my clients to reach their goals all with a sense of humor and play.
When Not Working:  You'll catch Mary Beth doing something hands-on outside of work.  Reading, making jewelry, doing arts-and-crafts, playing in the garden or travelling someplace for fun and adventure are all ways of playing outside of work.  Her passion for the community shows up in her support of Youth Care, City Year, YWCA and Dress for Success program.